Posted by Bryan Fischer
I started a new feature on the blog last week called
The Monday Mailbag
. I have now changed it to
The Tuesday Tweetbag
because can and because I like alliteration. I'm here to answer questions tweeted to me so make sure you follow me on
Twitter at @BryanDFischer
. So without further ado, let the smorgasbord of questions commence.
@BryanDFischer Which Team, TCU or WVU, is more likely to have a rough time adjusting to life in the Big XII next fall?

— John Schlenner (@johnschlenner) February 28, 2012
To be honest, I think both will have no issues transitioning to the Big 12. In 2012, both should have teams that will be very competitive and are likely dark horse picks to win the conference. Had TCU
not had their issues
, you would have seen plenty of people go out on a limb and put the Horned Frogs atop their preseason ballots. West Virginia returns their starting quarterback, Heisman candidate
Geno Smith
, and 14 other starters from a team that turned in one of the most impressive bowl performances in history. There are several holes they need to fill but a solid recruiting class should complement who is already on the roster. Both teams fit stylistically into the Big 12 and
Dana Holgorsen
knows the league well from his days as an assistant.
What really helps the two newcomers is the fact that the Big 12 has never really been this open. The Red River Rivalry might determine the eventual winner but neither
Texas
or
Oklahoma
will dominate like they have in the past. Last year
Oklahoma State
won the whole thing and
Baylor
- Baylor! - overcame a really bad defense to turn in a historic season. From top to bottom there was more parity than just about every other BCS league. I think TCU stands to benefit more than anybody going forward beyond 2012 as they're now the only BCS-level program in the talent-rich Dallas/Ft. Worth metroplex and have upgraded facilities to the point that they come into the conference as equals. It's going to be a little more difficult for Holgorsen but he's proven he can turn unheralded recruits into big time offensive players and win at multiple levels. Of all the programs that have changed conferences, I would put all the money in my wallet on TCU and West Virginia being the most successful.
@BryanDFischer how much do you think going from a great recruiter like Ron Zook (bad coach) to a guy like Tim Beckman (good coach) helps program

— Dave Simon (@nyillini311) February 28, 2012
I've heard several good things about Beckman and think he's done a good job getting things going early on but faces an uphill climb. While Zook was known as a good recruiter (both at
Illinois
and
Florida
before that), his teams lacked consistency and, outside of when the Illini went 9-4 in 2007, never could break through into the top half of the conference. He had a few surprising gets on the recruiting trail but there were never enough good players on Zook's teams to make a difference. Anytime you upgrade in the coaching department, it's good for the program. How much Beckman elevates Illinois remains to be seen but it's a solid hire. Little things - ok
major
things -
like not knowing the score
, probably won't happen with the new staff. While it should mean the team is better on the field in terms of "the little things," I'm not sure that will translate into a huge number of wins.
@BryanDFischer is Vontaze Burfict any good, will he be drafted.

— Senor Tang (@ixcuincle) February 28, 2012
I've seen Burfict since high school and there's no question that he is a talented linebacker. In his star-crossed career however, it has always come down to what the heck is going on between his ears. There was a point where most people had him pegged as a possible top 10 pick, now he'll be lucky to go on the first two days of the draft. I think there were plenty of issues with him and
Dennis Erickson
at
Arizona State
so I wonder if getting out of that environment and into the
NFL
will be a positive for Burfict. Perhaps the jolt of teams treating him like an adult rather than a kid that a coach's job is depending on will, in turn, make him a better player.
He is a good football player who will be drafted. How good and how high depends on how hard he wants to work and how serious he is about controlling his emotions and playing the right way. If he's still known for picking up personal fouls in two years, I'd say he's going to be looking for a new line of work much quicker than he first thought.
Bruce Feldman
has plenty more on Burfict and the draft
on his blog
.
@BryanDFischer how high do you see Ryan Tannehill going in the draft? Some guys have him as 3rd best QB and possible Top 10. Too high?

— Jason Zimmermann (@jzimmermann11) February 28, 2012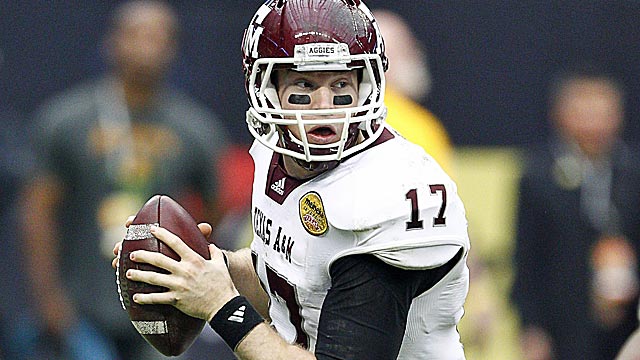 This is such an interesting draft because the drop off from the first two quarterbacks (
Andrew Luck
and
Robert Griffin III
) to the number three guy is huge. But because so many teams need a signal-caller, Tannehill has the potential to go as high as the top 10 during the draft. If you look at the
CBSSports.com quarterback rankings
, he has a first round projection but if I were an NFL GM, he would simply be too much of a risk to draft that high. Unlike most of the other guys, Tannehill doesn't have as many reps at the position because he played wide receiver - and was pretty good at it - for a while when in College Station. I think there is a lot to like about him, starting with his size and mobility, but I just can't see how the upside is worth a first round pick when you consider the caliber of players available.
If I had a need at quarterback, I think I would wait things out if I couldn't grab Luck or RG3. There are options on the free agent market (including, likely, some guy named Manning) and several guys who I think could be solid NFL guys in the 2nd round like
Kirk Cousins
or
Brandon Weeden
. Don't forget, there should be another strong group of QBs coming out next year like
Matt Barkley
and
Tyler Wilson
.
Our draft guys also tackled the Tannehill debtate and
went into detail on what they saw from the tape
.